If you have heard of Casita Coffee, Roadshow Coffee or Bueno Bonito Bodega, then you have probably met Eddie Inostroza.
For over 16 years Eddie has worked within the hospitality industry as a Barista, business owner and more recently roaster. You can usually catch Eddie, Bobby (his dog) and his business partner, Ash, at local Melbourne events with their company Roadshow Coffee, offering pop-up coffee carts as well as a full-service mobile café for the bigger gigs. You can also catch the team at the eye-catching Casita Coffee, here Eddie's love of food, his Chilean roots and the coffee he roasts alongside us at Criteria come together under one roof.
We sat down with Eddie to get to get to know him a little bit better and ask him how co-roasting has assisted him with running multiple businesses and to hear about his newest offering…a one-stop-shop for beer, wine, assorted spices, sauces and snacks, and of course, bags of Casita Coffee.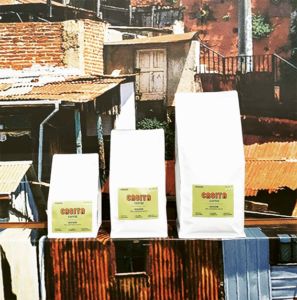 Firstly, Eddie, how long have you been in coffee?
Approximately 16 years as a barista, owning coffee shops on and off for about 9 years. Roasting for about 2 years.
..and before coffee?
There was elite rowing, studies in sport science and a personal training business I gave up to open a cafe. 
You sell your coffee under the brands?….
Casita Coffee is our brand of coffee. We also have a coffee shop by the same name at the Springvale Homemaker centre. We also have an online shop called Bueno Bonito, where you can buy Casita coffee + Chilean/Argentinian wine www.buenobonito.com.au. Casita Coffee supplies Roadshow Coffee, which is our event/mobile coffee business.   @casita.coffee @roadshowcoffee @bueno.bonito.bodega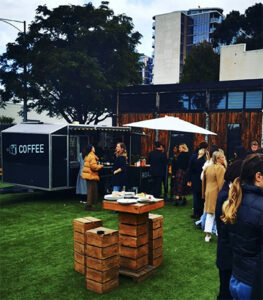 When seeking events to attend/work at what do you look for?
Access to power and projected turn out (usually half of what the event organizer says) and we're always looking for great people. Great people usually put on great events.
In 10 words can you summarise the style of coffee you make?
Approachable, Every day, Delicious, Latin American, Fun and friendly, Specialty coffee. 
If you could travel to any destination for coffee where would it be and why?
I can't wait to go to South Korea for coffee. I find their cafes adorable yet super cool. 
Your favourite coffee that you are drinking right now is?
A double espresso, a half latte or a magic. Sometimes all three at the same time.
Why do you choose to roast your own and not opt for a supply model?
A few reasons. We roast our own because we love coffee and we want to learn more about coffee. Coffee is one of those things that is always evolving and so roasting your own, especially at a place like Criteria, allows you to continue to develop as a coffee professional. Roasting your own also allows you to create your own brand of coffee which in turn helps to build your own audience and generate new revenue streams.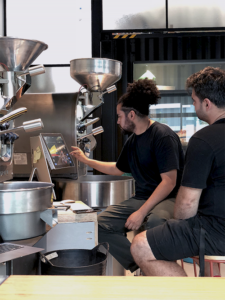 As a business owner, roasting your own coffee helps you how?
It helps me grow my businesses and it also helps me save $$$. Roasting your own takes care of your bottom line. 
If you were giving someone an insight into how the Criteria co-roastery works, how would you describe it?
I would describe criteria as a place where quality focused coffee businesses can hire a roastery for however long they need whilst getting amazing advice on how to select, buy and roast your coffee to suit your business's needs. 
COVID was tough, have you taken away any golden life/business lessons that you'd like to share?…
Sure was! Especially for an events business. I was lucky that I had another business (cafe + coffee bean sales) to keep me afloat and of course that government help. However, we did have to hustle, push the boundaries of what we as a business were capable of. It was very much a sink or swim situation and we swam! It sucked but we kept on keeping on. 
 Covid golden rule – As Bruce Lee says – "Be formless, be shapeless, be water my friend"
Adaptability as a business is the most important thing. I saw a lot of businesses remain unchanged in the hope that the pandemic would just blow over. The businesses I saw survive and thrive were the ones that improvised, changed things up and that got creative with finding ways to do business. 
Getting back to roasting, has Criteria made it a smooth transition for you and Ash?
Oh so smooth. No hiccups, professional, informative and very friendly. I've loved that about the process. We enjoy the Criteria model. The atmosphere in the roastery is professional yet very welcoming. We love it here at Criteria!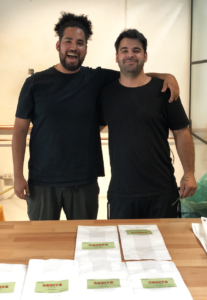 What's the long term goal for you/Ash?…
Ash and I joke about going international haha. We just want a healthy events business and perhaps open a few shops around town too. We're about to open a cafe/convenience store in the next few months so our focus is on perfecting the modern day milk bar/convenience store. We think of it as a "fun 7/11" where you can get your everyday items like your bread, milk, coffee, pantry items, alcohol, tobacco, newspapers and magazines. Kind of like what bodegas are in New York and what convenience stores are in Japan. We just think the convenience store game in Australia needs a bit of work.