A new benchmark for coffee roasting, where timeless technique meets state-of-the-art equipment.
Criteria Coffee is an expert guided roastery for hire, where Melbourne Cafes and coffee companies can roast their own coffee. When you roast with Criteria you'll enjoy access to much more than equipment. You'll be tapping into our extensive experience, and you'll become part of Melbourne's passionate coffee community with your own weekly roasting timeslot.
Located 10 minutes from the CBD, Criteria Coffee ensures a welcoming environment, convenient parking, climate-controlled coffee storage, forklift and container height roller doors for convenient loading and unloading of your coffee. We look after the roaster warm up, cool down and maintenance, and have your green coffee waiting for you on arrival.
Roasting Facilities
Roasters
Our Members have access to three Diedrich roasters.
IR12 with up to 32kg output per hour.
Plus the option to roast smaller batches on 2 of the IR2.5 with up to 8kg each per hour.
As you roast, you will learn:
* How to build relationships with green bean suppliers
* Guided coffee sourcing techniques with green import partners
* How to select the best green coffee for your requirements through guided cuppings
* Advice and roasting tuition to develop the best roast profiles and master the art of roasting
* How to confirm if roast profile is suitable and suggest adjustments if necessary through a weekly guided QC session
* How to use cupping, espresso, roasting and packing equipment with ease
* You'll have access to all brewing and packing equipment to taste and pack coffee after roasting.
Green Bean
Green selection is a critical step in roasting great coffee. We'll help you source the most suitable green for your requirements. We carry a selection of core origin essentials for you to order directly, or we can connect you to our extensive network of green importers.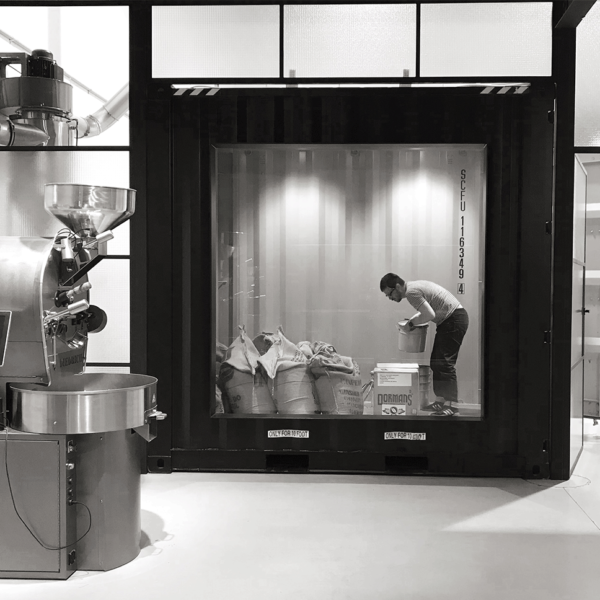 Storage
We have ample storage space, with pallet racking and forklift available on-site to manage and store your green bean.  We are available to receive your delivery directly, or you can bring your coffee with you as you require.
Equipment
Testing quality with precision is assured at Criteria Coffee. Members have use of two Modbar ABR espresso machines, BWT water filtration and Mahlkonig grinders when assessing their coffee.
Cupping
Learning to assess your coffee quality is an integral part of the roasting process. We will assist you in learning professional cupping methods as instructed by Craig Simon, Australia's first certified Q Grade instructor. All equipment is provided so you can focus on achieving the best results.
Packing and Packaging
Our weigh fill packing machine streamlines your packaging process by reducing handling time and improving efficiency. A range of standard packaging bags and buckets are available for purchase, or we can connect you to a network of packaging suppliers. We can also assist in the design of your labelling, ready for artwork submission.
Options & Packages
Hire by the hour, hire by the day, we have a roasting option for every need.
We offer a range of hire options to suit your business, be it a short-term casual hire or a secured long-term reoccurring time slot. Our hire agreements are flexible with no lock in contracts. Hire fees and payment terms are structured to suit your hire agreement, either by the hour or by the day. All members have full access to the roasting and packing equipment with dedicated ongoing support and training provided by Criteria.
Contact us to arrange your complimentary Roastery Tour and Roasting Induction.
"Great roasted coffee requires skill, knowledge and applied practice to master both the equipment and the perfect roast profile. Above all, it takes time, which is where Criteria Coffee comes in with practical guidance and training."

– Craig, Founder Criteria Coffee