Lost Origin.
2023 marked a special year for Criteria Coffee, after a long hiatus on international travel, we were finally able to return to origin in March to visit our producing partners and make some new friends. To visit origin is a privilege, it's also a very important part of our sourcing ethos. Traveling allows us to learn, revealing how coffee grows, how it is farmed, and how it is picked and processed. It's a thoroughly rewarding experience, bringing gravitas to our efforts at the roastery inspiring us to do our best at the roaster.  Connecting to origin also enables us to take our taste explorations one step further, solidifying a time and place with a specific taste memory. There are no more powerful coffee tastings than those with the producers who grow, pick, and process the beans. Hearing the stories of the farm's history, often spanning many generations of family connection, the challenges and successes they've experienced, and finally tasting together and getting to associate all those stories with the end product – it's truly a moving and memorable experience.  I get immense satisfaction from contributing my part in this intricate network of connections, at the roaster where I can share my skills, layered upon those of the producer before me and the brewer that follows.
This brings me to the coffee you have in your hands from Lost Origin. The first stop on our Central American trip was Panama. After a quick overnight in LA, we landed at Tocumen International Airport. A few days before leaving, Wilford Lamastus introduced us over WhatsApp to Andy, one part of the Lost Origin team along with Franz and Jonathan. Andy graciously agreed to pick us up from the airport and take us to our hotel. That is one of the things about visiting origin that I never get over, the generous hospitality of people who often I have only shared a few text messages with, offering their time to make you feel welcome, show you around, and obviously host cuppings of their coffees.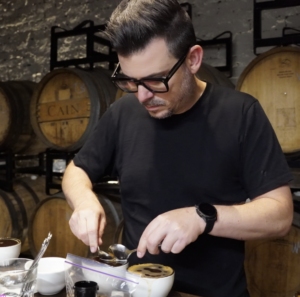 Not having heard of Lost Origin, I was curious to meet the team and taste what this new venture had to offer. Andy guided us through the doors of Casa Bruja, a boutique beer brewery in an industrial part of Panama City. Navigating the narrow corridors and stairwells, we entered the barrel-filled aging cellar; not the standard cupping experience, this intriguing reveal led us to some of the most magical cross-pollination that I've ever experienced.
Andy explains.

Our story can be traced back to 2019. In a constant search for inspiration and new flavors, we heard of Dark Matter Coffee out of Chicago, a brewery using beer ingredients (yeast hops) to process Salvadorian coffee. This shifted the team's mindset to the possibility of having our very own coffee processing facility. To put our theory on trial, we first reached out to a couple farms and ended up working with Santos Cafe for their 2020-2021 harvest. We shared with them our yeast cultures, enzymes, nutrients, hops, and created a couple processing protocols for them. Simultaneously, we contacted Elida and we asked to analyze some of the juices/musto or by-product from their fermentation; our findings made them reach out to us for a collaboration with Ben Put at Monogram. This type of validation from the industry secured a path to further explore Panamanian coffees and the potential of a controlled environment to exploit its unique qualities. Having a vast brewing background, we understand the importance of being able to measure, control, and clean the environment in which microorganisms interact. Our Lab is focused on exploring the impact and relationship of microorganisms on the coffee fruit. Documenting the flavor profiles and notes created by each trial allows us to understand and further exploit certain characteristics of each varietal.
Over 2 years, the team constructed their laboratory with the aid of a government grant, with custom-designed temperature-controlled fermentation tanks (inspired by their brewing equipment) and a temperature & humidity control drying room for optimised processing. Each coffee goes through 2 phases of processing, first fermentation under pressure and agitation parameters, followed by a 3-stage drying process. The result? This is some of the best coffee that I've tasted in many years, coffees that are complex yet clean and elegant. It was so refreshing to find these classic flavors, where extended fermentation and infusion can dominate the cupping table.
For me, a classic washed geisha profile is truly a thing of joy, amazing from the first sip, rewarding as they evolve, they take you on a tasting journey all the way until the last sip.
The First Release
The lot is called 001_001 for a reason. This coffee was Lost Origin's first official production release, the first time working with this particular producer, and we (Criteria) were their first potential buyer, and as the outcome shows, their first official sale!
The Producer & Processing
This coffee comes from Jaramillo in the Boquete region at an altitude of 1600 masl. Growing coffee under the shade of native trees and in harmony with the natural environment, Finca Jaramillo harvesters are families (men and women) from the Ngäbe-Buglé indigenous community who come to the farm from the Comarca in San Félix and Bocas del Toro. Exporting since 1989, decades of knowledge have been retained with their farming practices, and since 2020, it has been certified as 100% owned by women. Looking to express a clear and clean traditional washed Geisha profile, the coffee was depulped without the use of water in order to keep most of the sugars within the pulp. It was then placed inside the proprietary fermentation vessels and pitched under controlled conditions. With a short fermentation at 25°C for 24 hours and then crashed to a temperature of 10°C for an additional 24 hours. Next, the coffee beans were transferred to individual trays within the 3-stage drying room, under clean air conditions, humidity, and temperature control, where they would slowly dry for 24 days at an average temperature of 20°C. Kviek voss and Lactobacillus Plantarum offer a very neutral fermentation profile with subtle fruity and citric notes.
"From the beginning, it was a very human approach and not just a commercial transaction. Lost Origin was interested in visiting the farm, getting to know it, getting to know us, walking through the coffee plantations, and experiencing a little bit of who we are and how we work." – Finca Jaramillo

The Roast and Brew
So, now it is your turn to taste this amazing coffee. This coffee is likely to be its most expressive after resting for 7 days.
It has been roasted for a filter profile.
As this is a small portion of coffee that you may want to enjoy over a period of time, we've prepared 3 brewing recipes recommended for pour-over, based on different brew sizes.
20g coffee, 300g water, 92 degrees – 5 pours 60g Bloom @ 00:30 seconds in another 60g @ 01:00 60g center pour @ 01:30 60g center pour @ 02:00 60g pour in circles second total brew time 2:50
16g Coffee, 240g water – 4 pours 60g pours every 40 seconds total brew time 2:45ish
12.5g coffee, 192g water – 4 pours 48g pours every 40 seconds total brew time 2:30 +
*Special thanks to our good friend Frederick Kjaerulff-Schmidt for developing these recipes with us
The final outcome.
Sourcing, roasting, and preparing this coffee for the market has been a collaborative effort. We feel incredibly humbled to have had the opportunity to meet the Lost Origin team, witnessing their excitement as the project evolved and holding the final realization—a coffee that upholds decades of knowledge and years of curiosity. We sincerely hope that you find genuine joy while exploring this coffee, from the moment you open the letter-pressed packaging to savoring the final sip.
We extend our heartfelt gratitude for joining us on this remarkable experience.
Craig.
@lostorigincoffee @criteriacoffee.bycraig @craig_simon @andreasimoncreative @hungryworkshop